Stanton Lange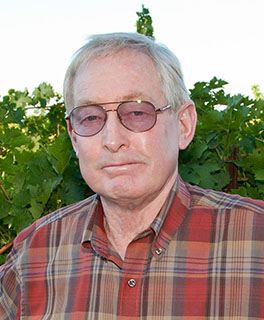 Stanton is a fourth generation Lodi farmer. But unlike previous generations who were once known as the watermelon kings of Lodi, wine-grape growing was Stanton's passion and ultimately his life's work. Stanton graduated from Lodi High School where he excelled as a trombone player and developed an appetite for skiing during frequent trips to the nearby Sierras. Stanton later attended Fresno State University where he earned a Bachelor's degree in Agricultural Business with an emphasis in plant science, and met his wife, Caroline. Stanton and Caroline have two daughters, Sarah and Steffani, and five grandchildren who call him "Papa."
Over the years, Stanton Lange Vineyard Management has grown from managing a few acres for Robert Mondavi Winery in the early years, to over 1,000 acres at its largest. His clients – current and former – often regard him as a meticulous grower with an emphasis on unparalleled quality and consistency. He owns and manages vineyards in both the Lodi Appellation and the Clements Hills Sub-Appellation.  During this time, Stanton has been instrumental in establishing and promoting the Lodi wine region. Stanton has served in various capacities for, or worked with, the San Joaquin County Farm Bureau, BIFS Program, UC Davis, the Lodi District Grape Growers and the Wine Grape Inspection Advisory Board. He is a member of the Lodi Winegrape Commission Research Committee and recently chaired the Lodi Winegrape Commission committee to review the Lodi Rules for Sustainable Winegrowing standards. He was honored as the Lodi Agri-Business Person of the Year in 2006 and elected to the San Joaquin County Ag Hall of Fame in 2013.
Caroline Lange
Caroline met her husband Stanton at Fresno State University. Caroline was born and raised in Portland, Oregon. During high school her family moved to California. She earned a degree in Accounting from Fresno State and then moved to Lodi with Stanton to begin their life together. She raised her two daughters as well as carried for two nieces and three nephews and now three grandchildren, while doing the accounting for the business. 
Caroline has established herself as an integral part of the Lange family and Lodi community through her work at home and for various organizations. She served as a member of Omega Nu for 30 years, one of the first women appointment to the Lodi Grape Festival Board and a member of the advisory board for Service 1st Bank. She has also worked with Langetwins in their accounting and administration departments.